Ostatnio nastąpiła eskalacja wysiłków palestyńskich organizacji terrorystycznych, kierowanych przez Hamas i Palestyński Islamski Dżihad (PIJ), zakotwiczenia się Zachodnim Brzegu i stworzenia infrastruktury wojskową do przeprowadzania stamtąd ataków terrorystycznych i walki zbrojnej przeciwko Izraelowi. Jest to widoczne przede wszystkim w a) współpracy między różnymi frakcjami zbrojnymi i powszechnej działalności terrorystycznej w obozach dla uchodźców, prowadzonej przez bojówki terrorystyczne, takie jak Brygada Dżenin i Jaskinia Lwów; b) w znaczącym wzroście działalności terrorystycznej na Zachodnim Brzegu, zwłaszcza w Dżeninie; c) w jawnych publicznych oświadczeniach przywódców organizacji terrorystycznych dotyczących eskalacji działalności terrorystycznej na Zachodnim Brzegu oraz d) w podważaniu kontroli i rządów Autonomii Palestyńskiej w obozie dla uchodźców w Dżeninie, co naświetliła akcja militarna Izraela w Dżeninie, "Dom i ogród", z 3-5 lipca.
Co więcej, jasne jest, że organizacje terrorystyczne zmieniają swoje metody prowadzenia wojny i sposób prowadzenia walki zbrojnej przeciwko Izraelowi z Zachodniego Brzegu i próbują powielać na Zachodnim Brzegu metody stosowane do walki z Izraelem w Strefie Gazy. W tym celu działają na trzy sposoby:
Ciągłymi wysiłkami na rzecz uzbrojenia Zachodniego Brzegu, w tym produkcji broni i zaawansowanych urządzeń wybuchowych

Wykopując tunele i wystrzeliwując rakiety

Utrzymując antyizraelską współpracę wojskową między organizacjami terrorystycznymi, na wzór wspólnego pokoju narad wojennych w Strefie Gazy.
Te wysiłki na rzecz wdrożenia modelu Gazy są szczególnie zauważalne na północnym Zachodnim Brzegu, zwłaszcza w dystryktach Dżenin i Nablus, ale przedstawiciele Hamasu i PIJ powtarzają, że dążą do rozszerzenia tych metod na wszystkie miasta Zachodniego Brzegu.
Należy zauważyć, że wysiłki na rzecz uzbrojenia Zachodniego Brzegu są energicznie wspierane przez Islamską Republikę Iranu zgodnie z rozkazami irańskiego najwyższego przywódcy Alego Chameneiego. Chamenei wydał te rozkazy dziesięć lat temu, a kolejni dowódcy irańskiego Korpusu Strażników Rewolucji Islamskiej wielokrotnie deklarowali, że je wykonują. [1] Przywódcy Hamasu i PIJ regularnie publicznie dziękują Iranowi za pomoc wojskową dla ich organizacji, w tym na Zachodnim Brzegu. [2]
[Dalszy tekst – przegląd trzech metod stosowanych przez palestyńskie organizacje terrorystyczne do powielania metod walki z Izraelem w Strefie Gazy na Zachodnim Brzegu, na przykładzie dystryktu Dżenin – nie jest spolszczony.]
Ongoing Efforts To Arm The West Bank, Including Manufacturing Weapons And Advanced Explosive Devices
Hamas and PIJ leaders have for years been openly announcing their efforts to arm the West Bank, and there has indeed been a significant increase in terror attacks emanating from there. As stated, these efforts to arm the West Bank are carried out in accordance with the 2014 orders of Iranian Supreme Leader Ali Khamenei, and with Iranian assistance.
PIJ secretary-general Ziad Al-Nakhaleh referenced this in a June 30, 2023 interview with the Iranian Arabic-language newspaper Al-Vefagh, saying: "… When [the Iranian] Leader [Khamenei] called to arm the West Bank, he essentially identified a very sensitive area in terms of the conflict with the enemy… His directive had considerable impact on morale and on the attention paid [to this issue] by our brothers who deal with these matters, as well as by the resistance factions themselves. There was general cooperation aimed at achieving a high-quality shift in the Palestinian condition. A plan was formulated to achieve this, whether by smuggling arms there or by buying them from the Israelis themselves. The important point is that there was intense focus [on this], aimed at causing a shift in the West Bank from a state of calm and quiet to the state of resistance we see today. This was certainly in accordance with the directives of the honorable leader [Khamenei]…"[3]
In addition to the many terrorist attacks originating from the West Bank, in recent months explosive devices used against IDF tanks and armed vehicles have not only been larger and more powerful than usual, they also appear to have been developed in the West Bank itself. For example, on June 19 a large explosive device was detonated against an IDF armored vehicle on its way out of Jenin, wounding several IDF soldiers. The Jenin Brigades posted a clip of the explosion on the group's Telegram channel, and members of Fatah's Al-Aqsa Martyrs' Brigades who operate as part of the Jenin Brigades reported that the device weighed 80 kilograms.[4] Following the incident, PIJ secretary-general Al-Nakhaleh told the Iranian Arabic-language Al-Alam TV channel that he would like to "thank the engineering unit of the Jenin Brigade, which produced these explosive devices out of nothing, bringing a change to the battlefield."[5]
West Bank terrorist organizations have been posting videos boasting of their capabilities for producing weapons, particularly explosive devices. For example, on June 19, the "engineering unit" of Hamas' Izz Al-Din Al-Qassam Brigades in Jenin posted a clip showcasing different types of explosive devices produced by the unit.[6] Another clip posted by the unit on July 7, only 24 hours after the conclusion of Israel's military operation in Jenin, clarified that it is continuing to produce explosive devices.[7] The following week, on July 15, the unit posted another video claiming that it had developed and put into use a new type of explosive device, Shuwaz 1, with armor penetration capabilities.[8]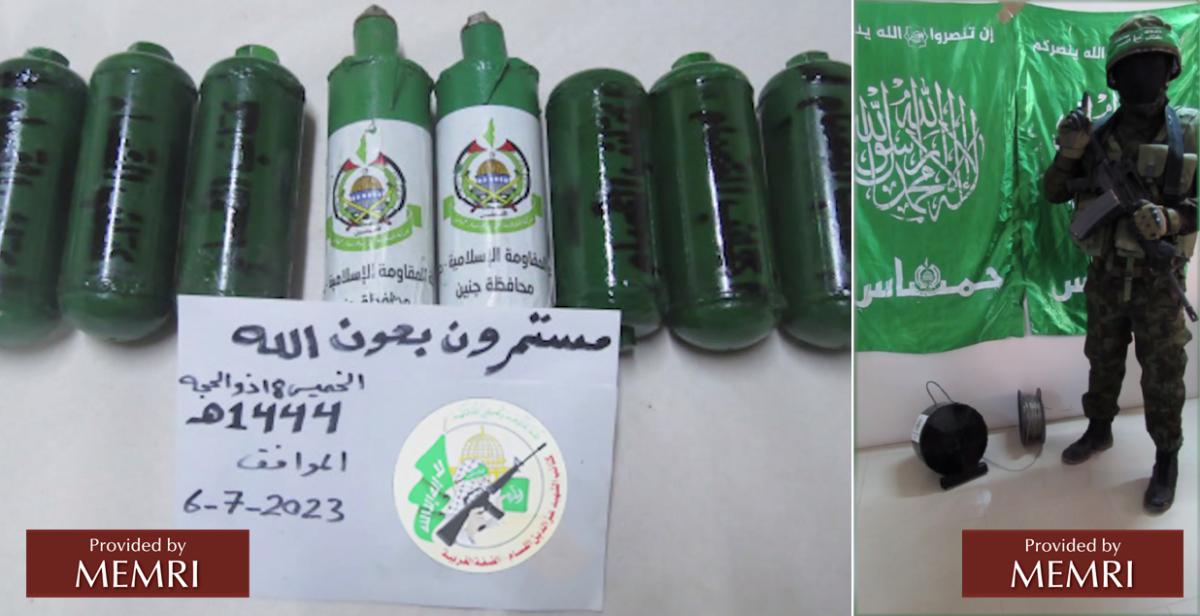 Screenshots from videos posted by the "engineering unit" of the Izz Al-Din Al-Qassam Brigades in Jenin. Left reads: "Continuing with Allah's help… July 6, 2023"; Right: New type of armor-penetrating explosive device, the Shuwaz 1
More can be learned about efforts to produce explosive devices from other reports. For instance, on July 18 a Telegram channel based in the Jenin area reported that a blast that shook Jenin was part of experiments with explosive devices.[9] Earlier, on June 21, the Telegram channel of the Al-Aqsa Martyrs' Brigades reported that two young men had been killed in a "work accident" in the Balata refugee camp while preparing an explosive device.[10]
In addition to large explosives devices, West Bank terrorist organizations are producing other weapons. In a July 9 interview with the Iranian news agency IRNA following Israel's military operation in Jenin refugee camp, Al-Nakhaleh was asked about Israel's claims that Palestinian resistance factions are taking action to bolster resistance capabilities in Jenin, including by manufacturing drones and advanced explosive devices, as well as digging tunnels; he acknowledged that this was indeed happening, on a small scale. He said: "Yes, these things are happening, but not the way the enemy claims. These headlines and terms are necessary as part of the resistance, [but] their scope is modest. The enemy is exaggerating and wants to show that it is fighting a front with vast capabilities…"[11]
Excavating Tunnels And Launching Rockets
Indeed, as Al-Nakhaleh said, in recent months there has been a clear effort by terrorist organizations active in the Jenin area to use tunnels and launch rockets, as in the Gaza Strip.
Israel's July military operation in Jenin exposed and neutralized extensive terrorist infrastructure, including headquarters, hiding places, storehouses, and laboratories for weapons production, as well as tunnels and underground shafts – including under the Al-Ansar Mosque, which was used by terrorists as a fortified compound.[12]

Left: tunnel entrance; right: fortified compound built in the refugee camp's Al-Ansar Mosque by the Jenin Brigade.[13]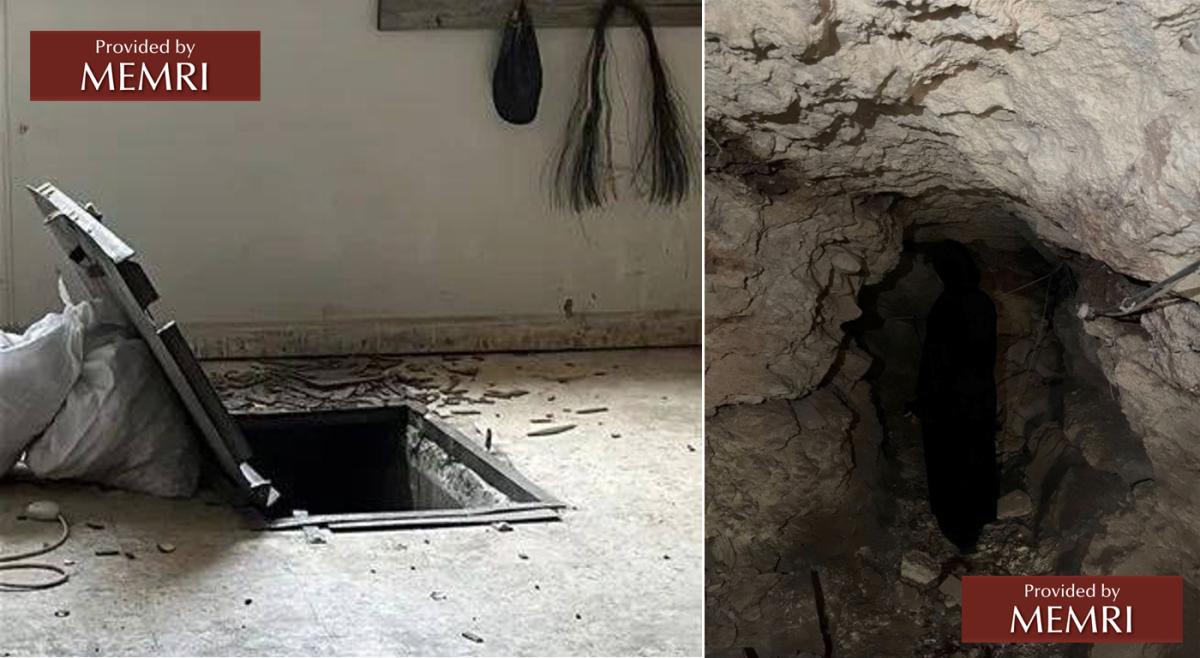 One of the entrance hatches to the tunnel network under Al-Ansar Mosque, and a photo taken inside one of the tunnels.[14]
Further, in recent months several rockets were launched from the Jenin area against Israeli settlements, claimed by a group calling itself "Al-Ayyash Brigade – West Jenin" named after Yahya Ayyash, one of the founders of Hamas' military arm. The group's Telegram channel, which features the logo of Izz Al-Din Al-Qassam Brigades, Hamas's military arm, posted a clip on June 7 documenting the launch of Qassam-1 rockets at the settlements, saying the launch had taken place two weeks prior, on May 24, 2023. It should be noted that the Qassam-1 rocket is relatively primitive and was first used by Hamas in the Gaza Strip in 2001.[15]
Similar video clips showing the launch of Qassam-1 rockets were posted by the same channel on June 14, June 26, and July 10. Each clip featured a poster with the same date.[16] A statement released July 10 by the Al-Ayyash Brigade said that that day's rocket launch was "part of the ongoing system of developing [our military capabilities], breaking the equation with the plundering enemy, and in response to its crimes against our people in Jenin camp…"[17] On July 27, the Al-Ayyash Brigade announced the launch of another Qassam-1 rocket at the Israeli settlement of Ram-On.[18]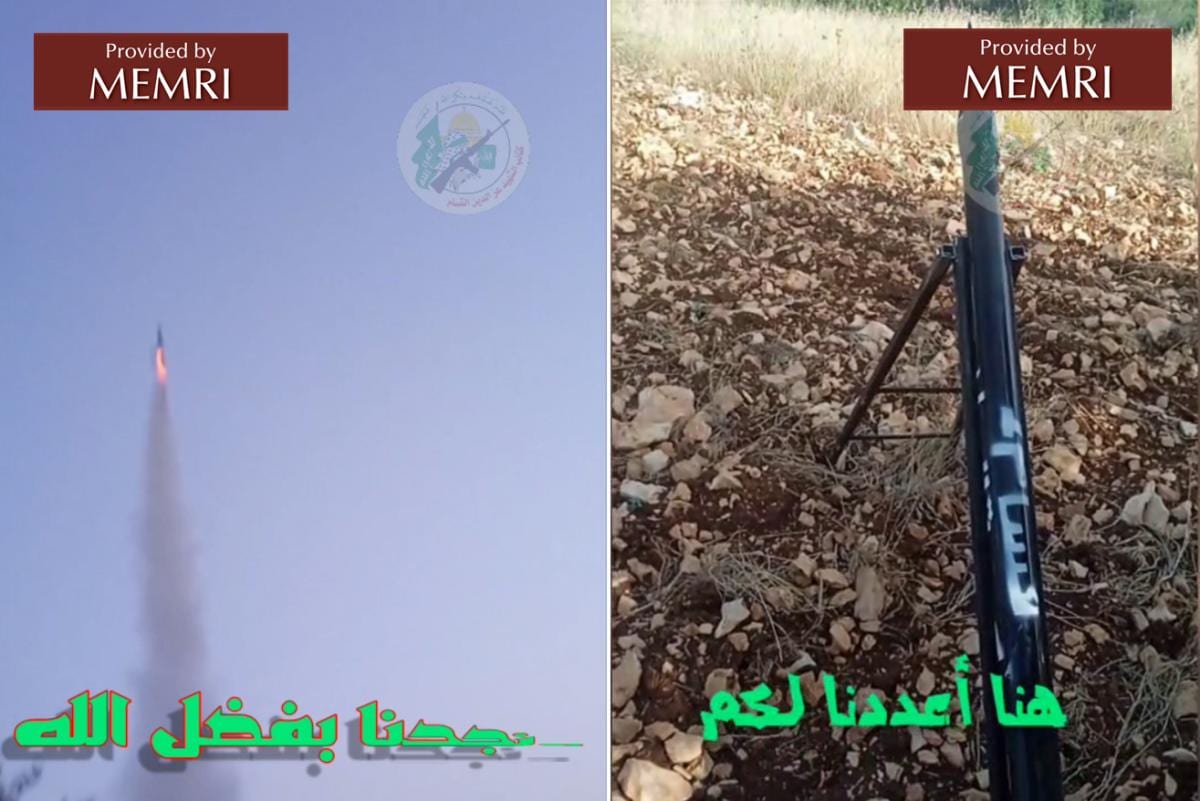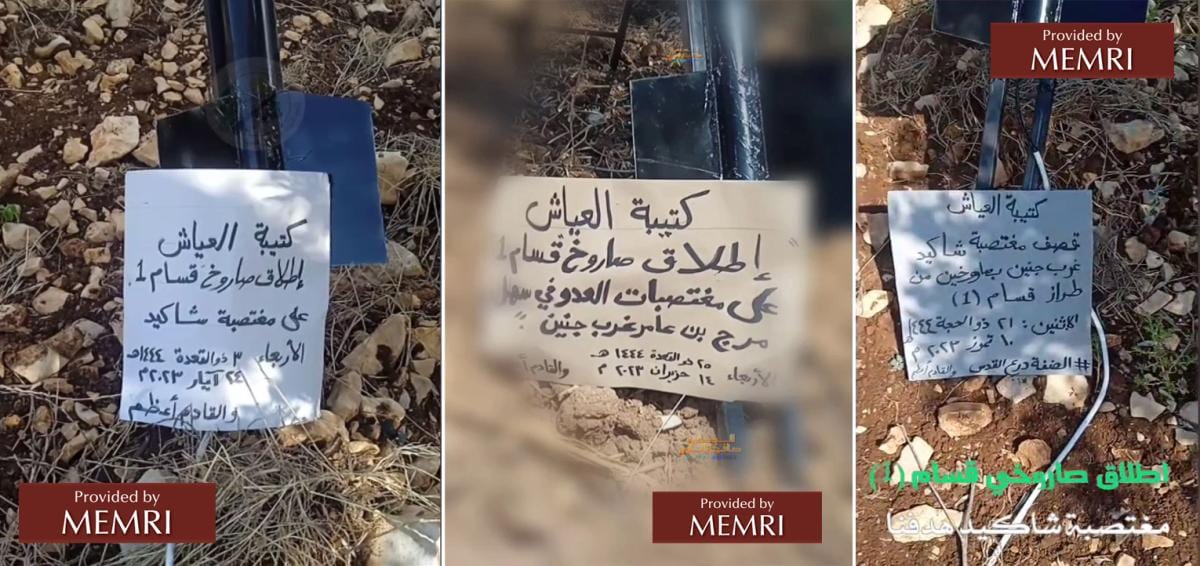 Screenshots from the video clips posted by the Telegram channel of "Al-Ayyash Brigade – West Jenin."[19]
SUPPORT OUR WORK
$500$250$100OTHERCryptoCurrencyApple PayPaypalCredit Card
It is obvious that Hamas tried to maintain ambiguity about its responsibility for these rocket launches, since they were not reported by the official platforms of its military arm, including its official Telegram channel "qassambrigades." What is more, at a press conference they held on June 27, Izz Al-Din Al-Qassam Brigades members from Jenin denied responsibility for the launch of rockets the previous day.[20]
Nevertheless, Hamas political bureau deputy chairman Salah Al-Arouri claimed responsibility for the launches. For example, he told Hamas' Al-Aqsa channel on July 3, at the beginning of the Israeli military operation in Jenin: "We will strike the enemy wherever and whenever we choose, whether by firing bullets, or shells, or even by launching rockets. Indeed, a few days ago Qassam-1 rockets were launched from Jenin."[21] In addition, when the operation concluded on July 5, Al-Arouri told Hizbullah's Al-Manar channel: "Resistance fighters on the West Bank are fighting using what means they have, and even experimented with launching rockets."[22]
In his column on Hamas' website Pal Info, Ahmad Abu Zuhri wrote in reference to the launch of rockets from the West Bank: "… In recent days, important developments took place in terms of the resistance obtaining new capabilities, after it already successfully produced various explosive devices as well as rockets, which it used to attack [Israeli] settlements in the area. It is true that so far, practically speaking, the rockets are primitive, and have limited impact in the field, but their impact on [Israel's] security and politics is more important, and does not end with official statements from the occupation, because when it comes to the occupation, more is hidden than is revealed. It feels real fear about the repercussions of this incident for the future of the West Bank and its growing resistance…"[23]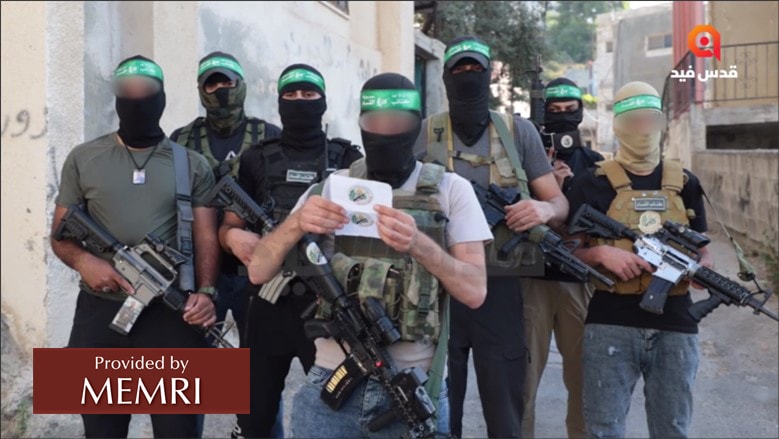 Press conference held by Hamas fighters in Jenin denying responsibility for launching rockets.[24]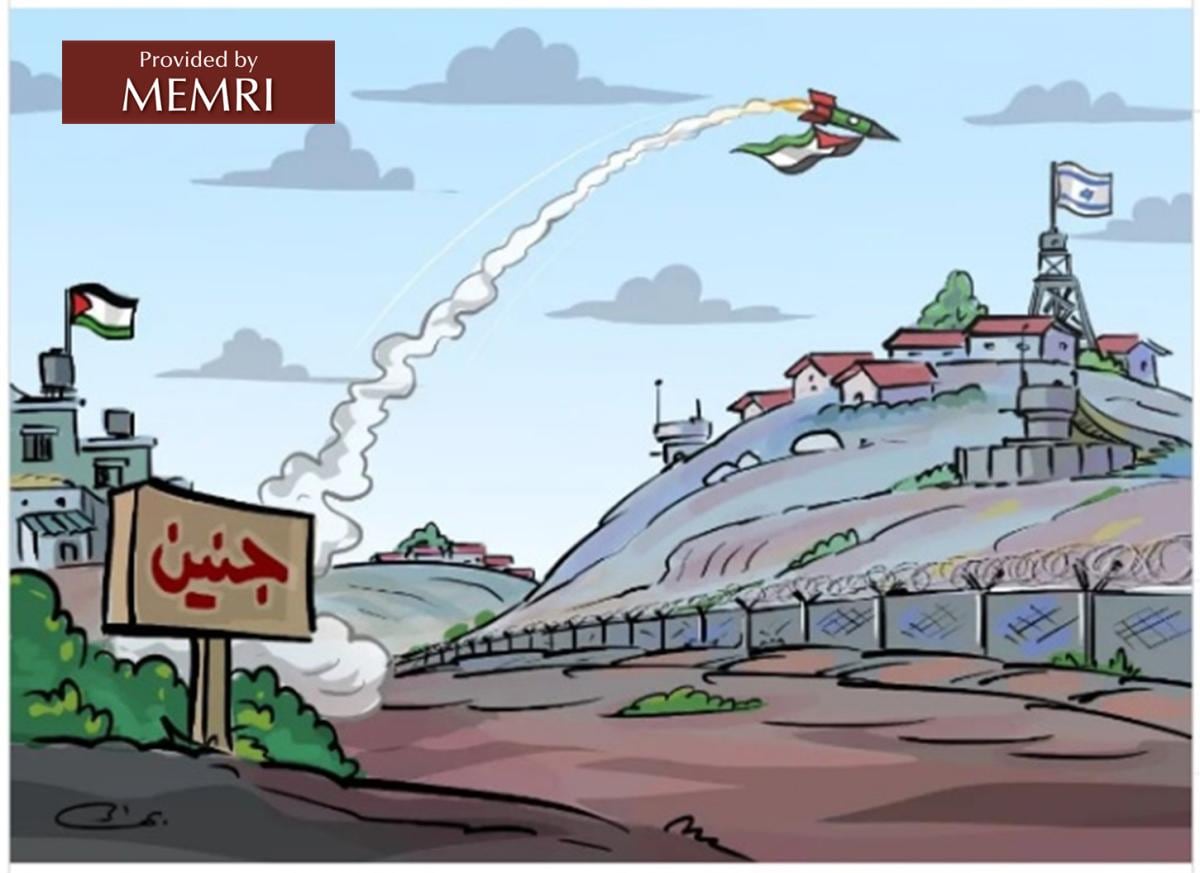 Cartoon by Gazan cartoonist Bahaa Yaseen, known for his ties to Hamas, praising the launching of rockets from the Jenin area.[25]
Maintaining Anti-Israel Military Cooperation Among The Terror Organizations – "Jenin Brigade" As Model For Entire West Bank
An additional manifestation of the terror organizations' growing power in the West Bank and their adoption of the Gaza model of fighting is an attempt to advance military cooperation among all the Palestinian factions fighting Israel in the West Bank. The aim is to duplicate the Joint War Room of the Palestinian Resistance Factions – the umbrella organization of all the military branches in the Gaza Strip, whose activity is notable during fighting with Israel.[26]
One clear example of this cooperation in the West Bank is the Jenin Brigade, a pan-organizational militia that has operated in Jenin for the past two years and includes fighters from across the Palestinian factions who fight together against Israel and carry out terror attacks against Israelis. Although the Al-Quds Brigades, which is the PIJ's military arm, is the dominant element in the Jenin Brigades, the latter also includes operatives from Hamas's Izz Al-Din Al-Qassam Brigades, the Popular Front for the Liberation of Palestine's (PFLP's) military wing Abu Ali Mustapha Brigades, and the Fatah military wing Al-Aqsa Martyrs Brigades. Operatives from the latter refuse to heed the official opposition to armed struggle against Israel maintained by Fatah and the Palestinian Authority headed by President Mahmoud Abbas.[27]
The cooperation among the various factions in the Jenin Brigade was in evidence in Israel's recent Operation Home and Garden in Jenin. All 12 terrorists killed in the operation belonged to the Al-Quds Brigades and Al-Aqsa Martyrs Brigades.[28] Additional proof of this was the participation of armed and masked men wearing headbands of various factions in a press conference held by the Palestinian resistance factions in Jenin immediately after the Israeli operation, on July 6, 2023.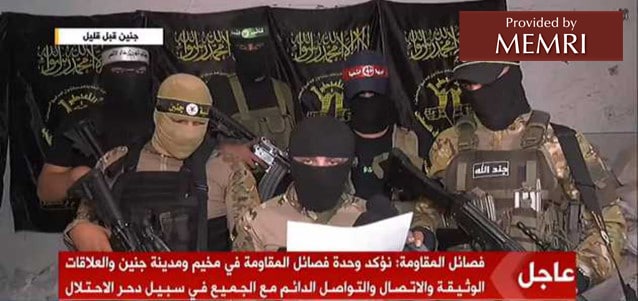 Armed and masked men at press conference held by the Palestinian resistance factions in Jenin, July 6, 2023 (Source: Moqawmh.ps, July 6, 2023)
Hamas and PIJ leaders are praising the Jenin Brigade; they consider it a model that should be expanded across the West Bank. For example, Hamas political bureau deputy chairman Salah Al-Arouri told Al-Manar in a July 5 interview: "What is happening in Jenin is only the beginning of the military activity that the resistance is preparing within Palestine." He assessed that "campaigns similar to the Jenin [refugee] camp campaign can also flare up across the entire West Bank."
Al-Arouri added: "The Jenin campaign is a paradigm of victory, and we must draw [from it the conclusion] that if the resistance in all areas attains this level, we will have an opportunity to expel the occupation from the entire West Bank… I say to the strongholds of the heroes, the jihad fighters and resistance fighters in all West Bank districts: 'Enter the fray and escalate it as happened in Jenin, and even more so.'" Stressing that the only option for dealing with the occupation is unity  in the battlefield, Al-Arouri stated that Hamas was cooperating with all the resistance fighters regardless of their organizational affiliation, and that there was a higher degree of unity on the battlefield than among the official echelons. He also said that during the Jenin campaign "the fighters were together in the field" and that "one of our most important missions as Palestinian leaders is to unite as many of the resistance fighters as possible, and [to unite] those who endorse the efforts of the resistance from among our people and our ummah – so that they will [all] be in the same trench against the Zionist enterprise." He concluded that even the recent meetings held by Hamas leaders in Iran had focused on cooperation among the Palestinian resistance elements.[29]
PIJ secretary-general Al-Nakhaleh likewise emphasized the aspiration to establish frameworks like the Jenin Brigade across the West Bank. He said in a June 30 interview with the Al-Vefagh newspaper: "We in the PIJ have acted and are still acting to establish fighting brigades in all the Palestinian cities of the West Bank. The scope and abilities of these brigades differ from place to place, depending on our ability to arm them and provide them with as many capabilities as possible. The Jenin Brigade is no doubt exceptional by virtue of being the first… But brigades and military cells have been established in all the Palestinian cities. The PIJ has been especially responsible for this, but this does not contradict the fact that there are also fighters from Hamas and other organizations.
Pointing at the cooperation with the Al-Aqsa Martyrs Brigades, Al-Nakhaleh said that this had yielded advantages, first and foremost the strengthening of the anti-PA elements in Fatah: " Let me also note that we have benefited from our openness towards the power centers of the Fatah movement, which include groups that oppose the [Palestinian] Authority and oppose any settlement [with Israel], and have influence on the ground. We decided to show openness towards these groups, assist them and arm them. Their presence helped the resistance to spread, because they have in some way or other become an opposition to the PA…"[30]
Furthermore, Al-Nakhaleh stressed to the Iranian state news agency IRNA in a July 9 interview that the Jenin Brigade is an inspiration and a model for the entire West Bank. He said: "[The model of] the Jenin Brigade is now fully operational and what happened in Jenin proves this. We are acting in all seriousness to spread these brigades in all the Palestinian cities, and they are becoming a fact on the ground, [albeit] to a different extent in each city. This is despite the many obstacles, chief of them the shortage of weapons and lack of options to supply them, but we are working very seriously to extend the Jenin model to all the Palestinian cities, and the young Palestinians are willing to do this…" He added that the Jenin Brigade is a framework that is tighter even than the Joint War Room in the Gaza Strip, since the operatives from the various factions in the brigade share everything – money, arms, and even food.[31]
 * S. Schneidmann is a research fellow at MEMRI; H. Varulkar is Director of Research at MEMRI
---
[1] For more on Khamenei's call to arm the West Bank a decade ago, see MEMRI TV Clip No, 4366, Iranian Leader Khamenei: Armed Struggle Should Continue until Israel Is Destroyed by a Referendum, July 23, 2014. See also MEMRI Special Dispatch No. 10588, Iranian IRGC Commander Hossein Salami: 'Invisible Hands Armed The West Bank – And You [Now] See Modern Automatic Rifles And Automatic Weapons In The Hands Of The Palestinians', May 2, 2023; Inquiry and Analysis No. 1107, Qods Day In Iran: Tehran Calls For Annihilation Of Israel And For Arming The West Bank, July 25, 2014; Special Dispatch No. 10173, IRGC Commander Salami In Interview For Supreme Leader Khamenei's Website: 'The Palestinians Are Ready Today For Ground Warfare – Israel's Major Weak Point… Missiles Are Excellent For Deterrence… But They Do Not Liberate The Lands; A Ground-Based Force Must Be Deployed, And Must Liberate The Land, Step By Step… Hizbullah And Palestine Will Move On The Ground In A Single Military Formation', August 31, 2022.
[2] See MEMRI Special Dispatch No. 10721 – Palestinian Islamic Jihad (PIJ) Secretary-General Ziad Al-Nakhaleh In Interviews With Iranian Media: We Manufacture Weapons Thanks To Aid Provided By Iran And Seek To Arm All West Bank Cities; No Jew Anywhere In The World Lives In Greater Danger Than The Jews In Palestine – July 24, 2023; Special Dispatch No. 10124 – In Tehran Visit On The Eve Of The Gaza-Israel Conflict, Palestinian Islamic Jihad (PIJ) Leader Nakhaleh, Iranian Regime Heads Praise Iran's Support For PIJ; IRGC Qods Force Commander Qaa'ni: 'The Palestinian Fighters Are At The Stage Of Planning To Strike The Final Blows Against The Rotting Body Of The Zionist Regime, When The Time Is Right' – August 8, 2022;
Special Dispatch No. 9946 – On International Qods Day, Instituted By The Iranian Regime, Hamas, Palestinian Islamic Jihad, Hizbullah And Other Iran Allies Call For Jihad Against Israel, Threaten Regional War – May 4, 2022; Special Dispatch No. 9717 – On Second Anniversary Of Iranian General Qassem Soleimani's Killing, Hamas, Palestinian Islamic Jihad Continue To Praise Him; Controversy In Gaza Over Billboards Commemorating Him – January 10, 2022; Inquiry & Analysis Series No. 1588 – Destruction Of Israel By The Sword Or By Referendum – Part II: Senior Iranian Regime Officials Link Iran To The May 2021 Gaza Conflict, Urge Hamas And Palestinian Islamic Jihad To Continue Their Fight Against Israel – July 22, 2021; Special Dispatch No. 9123 – Marking Anniversary Of Killing Of IRGC Qods Force Commander Qassem Soleimani, Hamas Continues To Signal Loyalty To Iran, Resistance Axis – January 5, 2021..
[3] Al-vefagh.net, June 30, 2023.
[4] T.me/sarayajnein, June 20, 2023; Twitter.com/fateh_pal65, June 19, 2023.
[5] Alalam.ir, June 19, 2023.
[6] T.me/alqassam_jenin, June 19, 2023.
[7] T.me/qassam_WB, July 6, 2023.
[8] T.me/qassam_WB, July 15, 2023.
[9] T.me/jeninqassam, July 18, 2023.
[10] T.me/katibatbalata, June 21, 2023.
[11] Ar.irna.ir, July 9, 2023.
[12] Idf.il, July 5, 2023.
[13] Metras.co, July 10, 2023.
[14] Twitter.com/yaseenizeddeen, July 4, 2023; Twitter.com/chaibfarid35562, July 5, 2023.
[15] Palinfo.com, July 3, 2023.
[16] T.me/ayashqassam, June 7, June 14, June 26, July 10, 2023.
[17] T.me/ayashqassam, July 10, 2023.
[18] T.me/ayashqassam, July 27, 2023.
[19] T.me/ayashqassam, June 7, June 14, July 10, 2023.
[20] T.me/qudsfeed, June 27, 2023.
[21] Hamas.ps, July 3, 2023.
[22] Almanar.com.lb, July 5, 2023.
[23] Palinfo.com, July 15, 2023.
[24] T.me/qudsfeed, June 27, 2023.
[25] Instagram.com/bahaa._.yaseen, July 11, 2023.
[26] According to a Hamas official, the Joint War Room comprises 10 military arms from the Gaza Strip. Aljazeera.net, June 12, 2023. See also Special Dispatch No. 9691 – Hamas Official Moussa Abu Marzouq: The Resistance Resembles A Regular Army Today – December 22, 2021; MEMRI TV Clip No. 9271,         
Hamas-Led Joint Military Drill In Gaza Simulates Kidnapping IDF Soldiers, Attacking Israeli Military Positions, Vehicles; Fighters Pledge To Liberate Prisoners, December 29, 2021; Clip No. 8574, "Gaza Joint Command Military Exercise Showcases Hamas', PIJ's Commando And Missile, Drone Capabilities," December 29, 2020.
[27] On paper, the activity of the many armed groups calling themselves Al-Aqsa Martyrs Brigades is banned in PA territory; in 2007 PA President and Fatah Chairman Mahmoud Abbas issued a presidential edict outlawing all "armed militias and all military or paramilitary groups," and ordered their weapons and ammunition confiscated. This order was meant to apply also to the armed wings of Fatah, which he heads. However, it was never implemented, and many groups calling themselves Al-Aqsa Martyrs Brigades – who still consider themselves part of Fatah although they reject the authority of its official leadership – continue to operate in the West Bank and Gaza Strip. See MEMRI Special Dispatch No. 9709 – Fatah's 57th Anniversary Rallies In Ramallah And Elsewhere In The Palestinian Authority Feature Armed Activists, Models Of Rockets, January 4, 2022;
Special Dispatch No. 7322 – Al-Aqsa Martyrs Brigades Establish 'Yasser Arafat' Military Base In Gaza, Announces: No One Will Take the Weapons Of Resistance From Us, Fatah Is True To The Path Of Armed Struggle – February 8, 2018.
[28] T.me/sarayajnein, Tt.me/elaqsa_1965, July 5, 2023.
[29] Almanar.com.lb, Hamas.ps, July 5, 2023.
[30]Al-vefagh.net, June 30, 2023. The editorial in the July 2, 2023 issue of the PA daily Al-Hayat Al-Jadida viciously attacked Al-Nakhaleh's statements, claiming that the PIJ's efforts to arm the West Bank were aimed driving a wedge among the Fatah ranks and harming the PA, on instructions from Iran.
[31] Ar.irna.ir, July 9, 2023.