W artykule zatytułowanym "Haszymidzkie Królestwo Palestyny", opublikowanym 7 czerwca 2022 r. na witrynie internetowej saudyjskiego kanału Al-Arabiya, Ali Al-Shihabi, saudyjski dziennikarz i komentator ds. Bliskiego Wschodu, wezwał do rozwiązania kwestii palestyńsko- izraelskiego konfliktu przez naturalizację milionów Palestyńczyków w rozszerzonym Królestwie Jordanii, które obejmie Zachodni Brzeg i Strefę Gazy, przy jednoczesnym odebraniu uznania OWP jako prawowitego przedstawiciela narodu palestyńskiego. Zaproponował również nadanie obywatelstwa jordańskiego Palestyńczykom mieszkającym w innych krajach, którzy mogą nadal mieszkać w tych krajach jako legalni cudzoziemcy rezydenci z pełnymi prawami obywatelskimi. Przekonuje, że Palestyńczycy i Arabowie muszą pogodzić się z rzeczywistością i zaakceptować fakt istnienia Izraela, rezygnując jednocześnie z "iluzji" prawa powrotu. [1] (Aby przeczytać artykuł Al-Shihabiego, patrz MEMRI Specjalny komunikat Nr 10028, "Rozwiązaniem problemu palestyńskiego jest naturalizacja Palestyńczyków w królestwie jordańskim, które obejmuje Gazę i Zachodni Brzeg; Pora, by Palestyńczycy zaakceptowali rzeczywistość i skupili się na swoim życiu", 21 czerwca 2022.)
Al-Shihabi, który zajmował wysokie oficjalne stanowiska w Arabii Saudyjskiej, głównie w telekomunikacji i finansach [2], jest podobno bliskim współpracownikiem saudyjskiego następcy tronu Muhammada bin Salmana. Od 2020 roku zasiada w radzie doradczej Neom, flagowego projektu bin Salmana dotyczącego budowy nowego miasta w północno-zachodniej Arabii Saudyjskiej.   
W świetle tego i ponieważ artykuł został opublikowany na znanej saudyjskiej witrynie internetowej Al-Arabiya, wielu uważało go za balon próbny wysłany przez saudyjskich decydentów, by ocenić reakcje opinii publicznej na proponowane rozwiązanie problemu palestyńskiego.
Chociaż artykuł Al-Shihabi nie wywołał żadnej oficjalnej odpowiedzi, wywołał intensywne reakcje w mediach społecznościowych, z których większość atakowała go i oskarżała o promowanie stanowiska izraelskiej prawicy politycznej, o popieranie idei Jordanii jako alternatywnej palestyńskiej ojczyzny, i o próby wyeliminowania sprawy palestyńskiej i prawa powrotu na koszt Jordanii. Wśród krytyków było wielu dziennikarzy, analityków i naukowców ze świata arabskiego i nie tylko. Al-Shihabi odpowiedział swoim krytykom, wywołując gorącą debatę na Twitterze.  
Odpowiedzi na propozycję Al-Shihabiego pojawiły się również w jordańskiej prasie, zarówno państwowej, jak i niezależnej. Nazywano to spiskiem i zdradą Palestyńczyków i Jordanii. Niektórzy autorzy uznali jego artykuł za przesłanie reżimu saudyjskiego do Jordanii.
Co zaskakujące, prasa w innych krajach arabskich, w tym prasa palestyńska, w dużej mierze zignorowała artykuł Al-Shihabiego. Chociaż artykuł zawiera daleko idącą propozycję rozwiązania problemu palestyńskiego, gazety palestyńskie opublikowały tylko kilka odpowiedzi. Dwóch palestyńskich dziennikarzy zaatakowało Al-Shihabiego i uznało jego artykuł za kolejną wskazówkę, że państwa Zatoki pozostawiły Palestyńczyków na pastwę losu i są gotowe wyeliminować sprawę palestyńską.  
17 czerwca 2022 r. dziennik internetowy Raialyoum.com poinformował, że w reakcji na lawinę wściekłych odpowiedzi otrzymanych w biurze Al-Arabiya w Ammanie, kanał ogłosił, że opublikuje na swojej stronie internetowej dowolny artykuł jordańskiego autora w odpowiedzi na propozycję Al-Shihabiego. Według raportu Al-Arabiya nieoficjalnie przekazała Jordańczykom, że artykuł nie przedstawia stanowiska kanału ani jego zarządu, a jedynie opinię autora artykułu. [3]  
[DALSZY TEKST NIE JEST SPOLSZCZONY]
This report reviews the reactions to Al-Shihabi's article.
Heated Exchange Between Al-Shihabi And Journalists, Intellectuals In Arab World And West
As stated, the article evoked angry reactions on social media, from users who slammed Al-Shihabi and his proposal, accusing him of promoting the narrative of the Israeli political right and seeking to eliminate the Palestinian cause and the Palestinians' right of return at Jordan's expense. It was possibly the flurry of angry responses that prompted Al-Arabiya to remove the link to Al-Shihabi's article from its Twitter page. Al-Shihabi, who promoted the article on his personal Twitter page, received furious responses as well, including from journalists and academics in the Arab world and beyond.
Al-Shihabi's Critics: This Proposal Is Radically Pro-Israel, Resembles The Plan Of Ariel Sharon
Several hours after the article appeared on Al-Arabiya, 'Abd Al-Rahman Al-Rashed, a senior Saudi journalist and a former editor of the Al-Arabiya website, shared a link to the article and commented: "This is a position [in favor of] returning the situation to what it was before the 1974 Arab Summit in Rabat that put an end to Jordan's control of Palestine and recognized the PLO as the sole legitimate representative [of the Palestinian people]."[4] 
This tweet by Al-Rashed, which provided a link to Al-Shihabi's article and did not harshly attack him, was seen by some as an expression of support for Al-Shihabi and evoked criticism against Al-Rashed himself. Jordanian user Amjad 'Alawneh addressed Al-Rashed, saying: "Has the insolence of making proposals at the expense of the [Jordanian] state become a 'position'?…"[5]
'Odeh Aburdene, an American-Palestinian businessman and a consultant on investments and energy in the Gulf, responded to Al-Shihabi and Al-Rashed with the comment: "This is the Sharon plan that would turn Jordan into a Palestinian state that Jordan and the Palestinians have rejected."[6]
Sebastian Usher, Middle East editor at BBC News, shared a link to Al-Shihabi's article, describing it as "a radical solution for Palestinian-Israel conflict."[7] Adam Ereli, a former U.S. ambassador to Bahrain, called it "a blockbuster article from @aliShihabi sure to generate controversy and stimulate debate."[8]
Senior Saudi Analyst: This Is A Naïve Pro-Israeli, Anti-Arab Article
Criticism of Al-Shihabi and his proposal was also expressed by Senior Saudi analyst Khaled Al-Dakhil, who tweeted on June 9 that it was "an old Israeli idea conceived by [former Israeli prime minister] Golda Meir. Both Jordan and the Palestinians have rejected it. The article is [slanted] against both these elements [Jordan and the Palestinians], and in favor of Israel – and despite this, Israel will not agree to have a state of that size [i.e., an expanded Jordanian kingdom, as proposed by Al-Shihabi] on its border. The message conveyed by the article is: push the Arabs into a corner, and they will surrender. This article is characterized by a naïve courage born of despair."[9]
In response to Al-Shihabi's call to "face reality," Al-Dakhil tweeted: "Mr. 'Ali, the problem is not recognizing reality or Israel. Since '77 Arab states have been normalizing relations with Israel, yet it has not changed its positions or its policy towards the Palestinians or the Arabs. Normalization for nothing is no longer the solution. Moreover, the Palestinian problem is also an Israeli problem. Why should the Arabs undertake to resolve it for Israel for free?"[10]
In response to the criticism and as support for this position, Al-Shihabi shared[11] a "well-argued and well-researched piece on this subject" by Jordanian businessman Hasan Ismaik, who resides in the UAE. Published in October 2021 in the American magazine Foreign Policy, Ismaik's article likewise suggests resolving the Palestinian problem by annexing the West Bank and Gaza to Jordan and granting the Palestinians Jordanian citizenship.[12]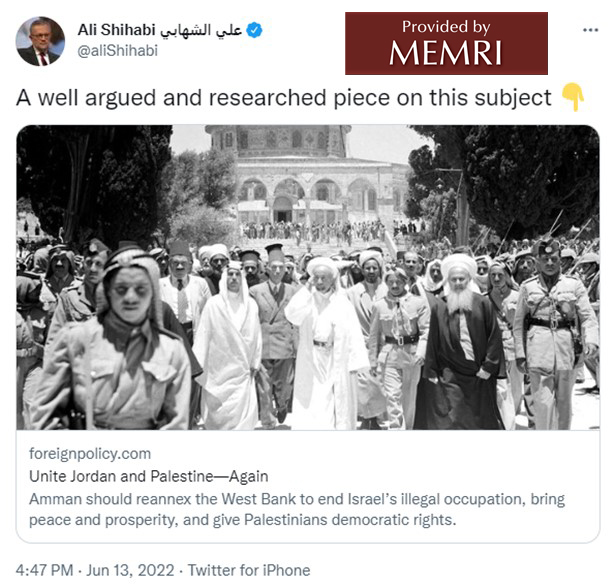 Al-Shihabi's tweet linking to Ismaik's article
This tweet sparked further responses from journalists, academics and other figures. Businessman 'Odeh Aburdene commented: "Ali this is a grotesque fantasy unless Israel gives up the West Bank and Arab East Jerusalem which I do not see on the horizon. Israel's desire to keep large part Of Area E 1. will make your proposal dead in the water."[13]
Senior Saudi journalist Khaled Al-Ma'eena, a former editor of the English-language Saudi dailies Arab News and Saudi Gazette, tweeted: "The Zionists will never stop their advance .The Quislings in the #Arab world will be the first they will trample on."[14]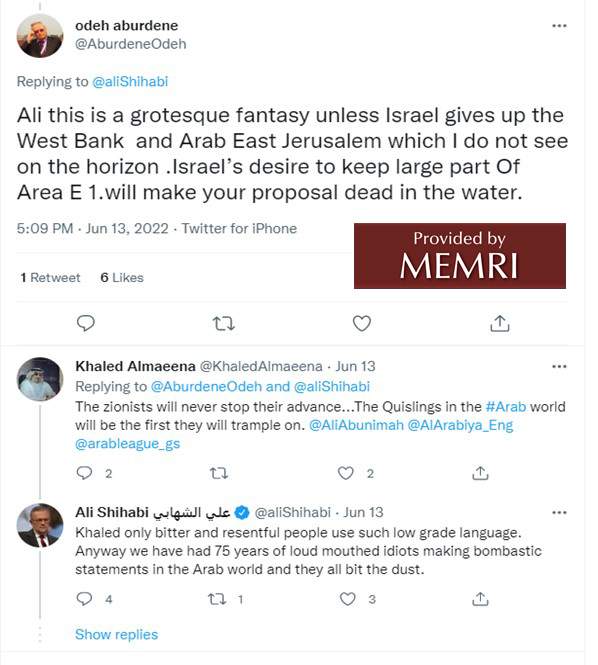 The exchange between Al-Shihabi and journalists critical of his position (Twitter.com/AburdeneOdeh, June 13, 2022)
Al-Shihabi In Response: We've Had Enough Of Bombastic Slogans; It's Time To Face Reality
Al-Shihabi did not hesitate to answer his critics on social media, replying to many of their posts. In response to Aburedene's claim that his plan is similar to that of the late Israeli prime minister Ariel Sharon, he tweeted: "Actually the Sharon plan is 'transfer' so that comment Odeh is inaccurate. By maintaining the status quo transfer is inevitable and its the Palestinians and Jordan (which will be destroyed) that will pay the price…"[15] Replying to Aburdene's question about the difference between "transfer" and a resettling of the Palestinians in Jordan, he wrote:  " 'Transfer' means kicking all the Palestinians out of historic Palestine. My proposal extends Jordanian sovereignty to the West Bank and Gaza. They stay where they are. Big difference."[16]
Replying to Khaled Al-Dakhil, who likewise called his ideas an Israeli plan and accused him of being naïve, Al-Shihabi tweeted: "If facing reality after 75 years of empty slogans and illusions is being naïve, then I am happy to be [called] naïve."[17] In another tweet the following day, he added: "As for the claim that this is an Israeli plan – the plan of the Israeli right is to expel all the Palestinians from the [Gaza] Strip and the [West] Bank to Egypt and Jordan; this will indeed happen if we do not act wisely, and Jordan as we know it will be destroyed. We've had enough hyperbolic slogans based on ignorance and bombastic slogans that arouse the sentiments of the masses, who are not aware of the severe political situation."[18]
Replying to further comments by his critics, Al-Shihabi wrote: "In the meantime move to Gaza or a refugee camp in Lebanon with your family and see how long you can last theorizing."[19] 
Addressing those who called his proposal a "grotesque fantasy" and claimed that the Arabs who cooperate with Israel will be the first to be trampled by it, he wrote that "only bitter and resentful people use such low grade language. Anyway we have had 75 years of loud mouthed idiots making bombastic statements in the Arab world and they all bit the dust." He added: "Also easy for people living in comfort and dignity to make maximalist demands but I bet a survey of WB [West Bank] and Gaza and refugee camp Palestinians (who pay the real daily price) will show a totally different story."[20]
Al-Shihabi also tweeted a link to an article in the Economist reporting that "young Palestinians are leaving Gaza in droves," and asked his critics: "Maybe you gentlemen can put them up in your guest bedrooms[?]"[21]
Jordanian Press: Jordan Is Neither Palestine Nor A Punching Bag – Stop Promoting Plots At Our Expense
As noted, to date there has been no official Jordanian response to Al-Shihabi's article. However, it did prompt many reactions in the press and on social media in the kingdom. Jordanian writers and users expressed rage about the ideas presented in the article, casting them as a "plot" aimed at harming Jordan and eliminating the Palestinian cause at Jordan's expense – and all in accordance with the alleged Israeli agenda. Most of these responses mentioned King Abdullah's past vehement opposition to similar plans, for example President Trump's "Deal of the Century."[22]
Both the state and non-state Jordanian press published articles attacking Al-Shihabi's piece. For example, on June 13, 2022 the government daily Al-Rai published an article titled "Jordan Is Not Palestine, There's No Substitute for an End to the Israeli Occupation," that stated: "Jordan and Palestine are united in opposition to the occupation. They stand fast against any solution [that will threaten] the Palestinian cause. Arab countries must support them in the conflict with the occupation, and members of the Arab media must continue to stand with the Arab truth and not put forth dubious Zionist plans. [They must] stop raising the idea of an alternative homeland [for the Palestinians], because this is a Zionist idea that is considered a plot against Jordan, Palestine, and the Arab nation. For this reason, such dubious ideas should not be promoted – they should be opposed."[23]
Shehadeh Abu Baqer, a former advisor to the speaker of parliament, wrote in his column in Al-Rai on June 13 that this was a plot against Jordan and the Palestinians, and hinted that those responsible for it were conspirators and traitors. He stated: "Recently, there have been statements and articles, including repeated Zionist statements, attempting to impose a solution to an Israeli problem at Jordan's expense. This can be defined only as a great plot against this long-suffering country. Furthermore, this is also a great plot to eliminate the Palestinian cause in a way that both benefits the Zionist imperialists and eradicates the Jordanian and Palestinian national identity…
"We want everyone to know that Jordan is not a punching bag, nor is it the soft underbelly that can be ruptured by [paying] billions [of dollars], even if, God forbid, we have nothing to eat… Anyone who comes up with a devious and defeatist solution, or who plans and carries out such a scheme… should [stop, and] let us Jordanians and Palestinians fight this oppressing enemy for the sake of the honor of all the Arabs and Muslims and their place of worship. With Allah's help, we will triumph thanks to our steadfastness, loyalty and refusal to relinquish the clear truth, and tomorrow will not be late in coming. 
"Allah preserve our Hashemite Kingdom of Jordan from the hastiness and deviousness of all fools, all those who abandon [their brothers], and all those who plot treason of any kind. For us, and for the steadfast, tolerant, and battle-ready Palestinian people, there is a [divine] promise of absolute victory over the evil Zionists and their helpers, whoever they may be…"[24]
Several Jordanian writers hinted that the Saudi regime was the source of the ideas in Al-Shihabi's article, which had appeared on the prominent Al-Arabiya platform.[25] For example, the political editor of the Jordanian news outlet jo24.net wrote: "What is worrisome is not the article itself, but the fact that no one in Jordan has read it closely…  The Jordanian reader must regard this Al-Arabiya [article] as an attempt to instill defeat simultaneously in two peoples, the Jordanians and the Palestinians… This article must not be seen as a mere opinion piece published by media, since that happens [only] in democratic countries. In contrast, on the [Saudi] Al-Arabiya channel, not one letter is published without a minute examination, and therefore the article necessarily expresses Al-Arabiya's [position]. Anyone noticing that Saudi-Israeli relations are warm, and even more than that, would not be mistaken. Riyadh is not [even] trying to hide this… Suffice it to say that the official normalization of the Gulf [countries' relations with Israel] could not have happened without a Saudi decision…
"The author of the article – I imagine it is not the one in the byline… the Saudi 'Ali Al-Shihabi [apparently a reference to Saudi Crown Prince Muhammad bin Salman] – understands that actualizing the process of settling the Palestinians in the Jordanians' homeland, instead of the Jordanians [themselves], cannot be done without [first] taking steps to advance it, such as impoverishing the Jordanians and even starving them, and reviving the civil war between the Jordanian landowners and the Jordanians of Palestinian [descent]. All this is happening while the [Saudi] director looks on from behind the screen and manipulates the puppets, so that they act as he wills them… The article is a message to the Jordanian establishment, and [the message] has no doubt been received…"[26]
Another figure who addressed the issue was Jordanian former foreign minister Marwan Al-Mu'asher, in an article titled "The Solution to the Israeli Crisis At Jordan's Expense," published June 16 in the London-based Al-Quds Al-Arabi daily. He wrote that Israel has been trying for many years to resolve the demographic problem posed by the growing population of Palestinians by "expelling the problem" to outside its borders, particularly to Jordan. Hinting at Al-Shihabi's article, Al-Mu'asher stated that this is "a trial balloon by the elements that support the writers of [such] articles."[27]
Palestinian Journalists: The Arabs Have Abandoned Us And Are Helping Israel To Eliminate The Palestinian Cause
The Palestinian Authority did not officially respond to the article by Al-Shihabi. Furthermore, surprisingly, there were hardly any responses to the article in the Palestinian press.
Palestinian journalist Muhannad 'Abd Al-Hamid, in his column in Al-Ayyam, expressed opposition to Al-Shihabi's article, seeing it as additional proof that Arab countries, in particular the Gulf states, have abandoned the Palestinians and are even helping to eliminate the Palestinian cause. He wrote: "…While the Arab establishment adopted peace with Israel, recognition of it, and negotiations with it – and removed from the discourse the three Nos of the 1967 [Arab League] summit in Khartoum ["no to peace, no to recognition, and no to negotiations with Israel"] – the Netanyahu and Bennett governments declared for two decades: no to peace, no to recognition, and no to negotiations with the main power in the conflict, namely the Palestinians… The Palestinian arena is exposed to [this Israeli] arrogance, and at the same time is denied political and economic support, both Arab and international, on an unprecedented level.
"Let us admit that the Palestinian situation today is the worst it has ever been… It is true that the [Palestinian] people did not surrender and did not accept Israel's conditions. However, it has entered a state of isolation from its brethren… The normalization [of Arab states with Israel] has become a preliminary stage in the solution [of the Palestinian issue, and not the result of a solution]. In fact, it has become an alternative to [a solution], amid the deafening Palestinian silence…."
Later in the article, 'Abd Al-Hamid quoted several reports recently published in the Western media about the shift in Saudi public opinion toward Israel and the possibility of rapprochement between the two countries, as well as the signing of trade and cooperation agreements between the UAE and Israel, valued at several billion dollars. He added: "The influential political elites in the Gulf states claim that pouring billions into Israel, opening local markets to it, and [opening up] the islands, the straits, and the bases of [the Gulf states] to Israel is their sovereign right and that they are free to determine their polices and [choose] their alliances… the Gulf political elite is not content with breaching ties [of brotherhood], [Arab] values, national rights ,and human rights, but has reached the point of adopting the Israeli solution for eliminating the Palestinian cause. [It reached this point] when Saudi journalist 'Ali Al-Shihabi called in his article to establish the 'Hashemite Kingdom of Palestine' [by unifying] Jordan and Palestine, and stated that Israel is an established fact which the region must accept, and that the Palestinians must make their peace with this reality…
"[This] plan is completely contrary to the historical national interests of the Palestinian people and to the rights of the Jordanian people, its independence and its right to self-determination. Al-Shihabi, who initiated the plan, has not flinched from adopting the old version of the Zionist narrative and saying that the Palestinian nakba generation has already died, and [that the current generation] and their children should now be preoccupied with the ability to live in dignity [from an economic perspective]…"[28]
Palestinian journalist 'Omar Hilmi Al-Ghoul, who for an unknown reason published his article not in his column in the PA mouthpiece Al-Hayat Al-Jadida but on his Facebook page and on several Palestinian websites, expressed similar criticism, writing: "Anyone reading the proposal of the lords of the Abraham surrender accords[29] [that is, Al-Shihabi's article, which the author is ascribing to the Saudis] realizes that this is not a new proposal, since such plans have been proposed in the past… However, its resurfacing at this particular time is not a coincidence. Moreover, this is not just a passing stance expressed by an opinion columnist, but a proposal that reflects the nature of this period and the discourse of powerful elements who have an interest in eliminating the Palestinian cause… Let me emphasize that the Palestinian people, its legitimate leadership, its national factions, its political elite… and every one of its components reject this plan out of hand… and it will not pass, no matter how many sacrifices must be made… [The Palestinian people] will not compromise on less than its declared national principles, mainly the right of return, [the right] to self-determination, the establishment of an independent national state with its capital in Jerusalem, and full equality for our people in the Galilee, the Triangle [a concentration of Israeli Arab towns and villages in northern Israel], the Negev, and in mixed [Arab and Jewish] cities [in Israel]."[30]
---
[1] Alarabiya.net, June 7, 2022. An English translation of the article was posted on Al-Arabiya's English website the following day. The idea outlined by Al-Shihabi is, in essence, a version of the plan known as the "Jordanian option," which involves establishing  a Palestinian-Jordanian  confederation. Both sides, the Palestinians and Jordan, have rejected this idea in the past, or stated that it can only be considered once an independent Palestinian state has been established. See MEMRI Inquiry & Analysis Series No. 1272 – Idea Of Jordanian-Palestinian Confederation Resurfaces, Only To Be Rejected By Both Sides – February 10, 2016. 
It should be noted that, on June 9, 2022, two days after Al-Shihabi's article appeared, former Israeli foreign minister Shlomo Ben Ami published an article in the Wall Street Journal that likewise called for reviving the "Jordanian option" of establishing a Palestinian-Jordanian confederation (wsj.com, June 9, 2022).
[2] Al-Shihabi was an official at the Saudi Arabian Monetary Authority (SAMA) and at several Saudi banks. He was also on the board of the Orbit Satellite Television Network, and a board and Audit Committee member at the Middle East Broadcasting Service (MBC). In 2017 he established the U.S.-based Arabia Foundation research center,  specializing in Saudi geopolitics (Alishihabi.com).
[3]  Raialyoum.com, June 17, 2022.
[4]  Twitter.com/aalrashed, June 8, 2022.
[5]  Twitter.com/amjadmalawneh, June 9, 2022.
[6]  Twitter.com/AburdeneOdeh, June 9, 2022.
[7]  Twitter.com/sebusher/status/1534644849462370305.
[8]  Twiiter.com/erelija, June 9, 2022.
[9]  Twitter.com/kdriyadh, June 9, 2022.
[10] Twitter.com/kdriyadh, June 14, 2022.
[11] Twitter.com/aliShihabi, June 13, 2022.
[12] For Ismaik's article, titled "Unite Jordan and Palestine—Again," see foreignpolicy.com, October 15, 2021.
[13] Twitter.com/AburdeneOdeh, June 13, 2022.
[14]  Twitter.com/KhaledAlmaeena, June 13, 2022.
[15]  Twitter.com/aliShihabi, June 10, 2022.
[16]  Twitter.com/aliShihabi, June 11, 2022.
[17] Twitter.com/aliShihabi,  June 9, 2022.
[18] Twitter.com/aliShihabi, June 10, 2022.
[19] Twitter.com/aliShihabi,  June 9, 2022.
[20]  Twitter.com/aliShihabi,  June 13, 2022.
[21] Twitter.com/aliShihabi,  June 13, 2022. Jordanian MP and former minister Muhammad Al-Momani published an article in a similar vein. He, too, called Al-Shihabi's proposal unfeasible, radically slanted in favor of the Israeli political right, and directly at odds with the Palestinian national enterprise and with the strategic interests of Jordan (Al-Ghad, Jordan, June 17, 2022).
[22] See MEMRI Inquiry & Analysis Series No. 1448, Concern In Jordan About 'Deal Of The Century,' Possible Harm To Jordan's Special Status In Jerusalem, April 8, 2019.
[23] Al-Rai (Jordan), June 13, 2022.
[24] Al-Rai (Jordan), June 13, 2022. See MEMRI Inquiry & Analysis No. 1448, Concern In Jordan About 'Deal Of The Century,' Possible Harm To Jordan's Special Status In Jerusalem, April 8, 2019.
[25] For example, Monther Howarat, a columnist for the state daily Al-Rai, wrote in an article that was posted to several Jordanian websites: "The grave thing is that [this idea] was published on an Arab platform known to express the position of a certain Arab country [i.e., Saudi Arabia]…" (alsaa.net, June 11, 2022; akhbarhayat.com, June 12, 2022).
[26] Jo24.net, June 11, 2022.
[27]  Al-Quds Al-Arabi (London), June 6, 2021.
[28] Al-Ayyam (PA), June 14, 2022.
[29] This is a pejorative term for the Abraham Accords between Israel and the UAE and Bahrain.
[30] Facebook.com/OmarElghoulOfficial, It should be noted that Al-Ghoul erroneously ascribed the article to the Jordanian writer Munther Al-Hawarat, who in fact only summarized Al-Shihabi's article and attacked it (Facebook.com/OmarElghoulOfficial, June 12, 2022).